Connection Cards
Deepen your connection with others and take action for the planet. 
Conversation cards are a popular tool for people seeking to build deep, meaningful relationships. 
Whether you're planning a dinner party, team bonding exercise, or intend on using it as a self-reflection tool, these conversation starters invite you to embrace alternative perspectives with curiosity and imagination whilst developing skills of deep listening and empathy.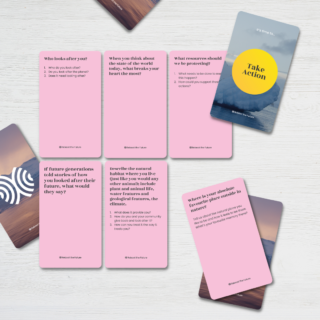 Reboot's Connection Cards contain 17 conversation starters to spark intersectional conversation and personal reflection on the climate and ecological crisis. Don't just talk, take action by using the golden 'I Will' card to make a personal pledge for the planet.