Values For A Life Economy
Reboot the Future's new book 'Values For A Life Economy' is the culmination of a year-long series of conversations, launched in lockdown, asking how to achieve 'Good After Covid-19'.
These conversations brought people together from around the world, from different sectors, backgrounds, and professions, from business, NGOs, governments and activist groups.

Good After Covid-19
When the pandemic broke in 2020, Reboot the Future, Franklin University and the Future Food Institute partnered on a sequence of live-streamed discussions exploring what #GoodAfterCovid19 looks like. The discussions approached this question from multiple perspectives including education, business, spirituality and religion, youth, and the environment.

Bringing together leading voices in these fields, along with members of the public, #GoodAfterCovid19 provides a laboratory to work out how we can build a more compassionate, equitable and sustainable future from the disaster of the pandemic.
All the Good After Covid-19 discussions that inspired this book, plus extra film bites from our Thought Leaders, are available on our YouTube channel.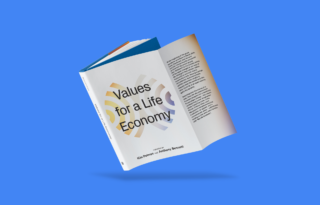 The Book
Reboot the Future's new book 'Values For A Life Economy' reflects on the #GoodAfterCovid19 conversations and what has been learned from the pandemic, and offers 10 values based on those learnings to guide the way to a 'Life Economy' where all life thrives.

Curated by Kim Polman and Anthony Bennett, the book explores these 10 unifying values and reflection activities as part of a rich, broad and inspiring map that guides us towards a life economy where all life thrives.
The book is available in hardback, as an e-book, and as a free downloadable PDF.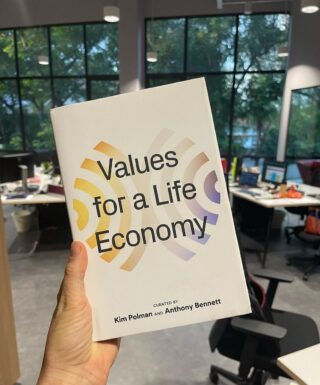 Values for a Life Economy creates a confluence of pragmatism and wisdom. The authors show us a clear way forward to a future in which humanity can survive and thrive while the integrity of our precious planet Earth is maintained. The book is a beautiful bouquet of essays rooted in the magnificent spirit of Regenerative Culture!

— Satish Kumar

In our world of change, uncertainty, and polarization, I'm thankful for Kim Polman and Anthony Bennett's insights in Values for a Life Economy. This book is both thought provoking and accessible. They leverage a year of inspiring discussions into meaningful and manageable chunks, laddering values unpacked and exemplified from 'Love Each Other' up to the paradigm shifting values of a 'The Life Economy'.

— Marianne W. Lewis

The idea of capturing the lessons of COVID and turning them into a manifesto of values to drive behaviour toward a life economy is brilliant, courageous, and needed now more than ever

— Paul Polman