Reboot's 2023 Illustrator: Karin Watson Ferrer
08 Jun
Since 2019, we've been collaborating with artists around the world to illustrate our annual Classroom Calendar - a free teaching resource to bring global connection and sustainability into over 5000 classrooms.
This year, we're working with the talented Karin Watson Ferrer, a Chilean-born climate and human rights activist inspiring action through her artwork and graphic design.
Karin is not only a talented artist but also Co-founder of Latinas for Climate, a youth-led Latin American feminist organization working for climate justice and to improve the role of women and girls in the climate space. She also works with the HERO Circle App, supporting climate activists financially.
Art has the power to change narratives, spark conversations and challenge the status quo. We asked Karin about her relationship with her work and activism and how they fuel each other!
I believe that for years art and activism have had a very strong connection, influencing each other, and we can work with both to create the positive changes we seek!

Karin Watson Ferrer

Art has the potential to support social change... For me, art, as well as being deeply personal and healing, is for the collective, to enjoy the processes of creation and craft, to generate conversations and call for reflection, to create awareness, to empower and to educate.

Karin Watson Ferrer

I try to ensure that what I create can serve my activism and the collectives to which I belong... as a tool or perhaps a vehicle to draw people's attention to climatic phenomena, climate justice and other issues.

Karin Watson Ferrer

What we do to the planet, we do to ourselves, and to all who inhabit it. By defending and protecting the planet we are protecting, deep down, our lives and our rights as well.

Karin Watson Ferrer

I want my art to be meaningful, engaging & empowering!

Karin Watson Ferrer
For this year's 2023-24 Classroom Calendar, Karin has produced a set of 15 illustrations based on the values and actions needed to reboot the future; including creativity, conversation, innovation, connecting to nature, activism and more. Can you guess which ones which?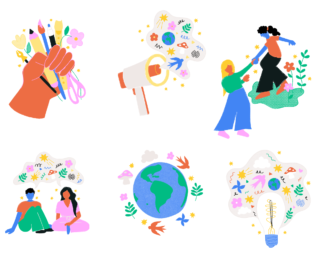 See the full set of illustrations exclusively on our 2023-24 Classroom Calendar which is now available to pre-order! 
Our Classroom Calendar is packed with key global dates, facts and activities that inspire global citizenship, critical thinking and conversation. Suitable for learners of all ages, they're a beautiful addition to any classroom wall. 
Not only are our calendars printed on FSC® certified 100% recycled and carbon-balanced paper, but they're also just £1 plus post and packaging!